Looking to The Next 125 Years
Kässbohrer Celebrated its 125th Anniversary
02 July 2018
Kässbohrer, the inventor semi-trailer coupling paving the way to our modern day trailer, driven by the contemporary motto Enginuity, owning numerous R&D projects, recipient of awards and a partner in Aeroflex Project proudly celebrated its 125 years of innovation in a two day event held on 13th-14th of June 2018 in Ulm where the company was first founded in 1893.
Kässbohrer's long term partners, associations, consortium partners, start-ups, clients, suppliers, old and new Kässbohrer employees from 19 countries along with distinguished speakers, Mayor of Achstetten Kai Feneberg, Verband Spedition und Logistik (VSL) Baden-Württemberg e.V`s General Manager Andrea Marongiu, Aeroflex Project Coordinator Ben Kraaijenhagen, Mr. Darious Moeini and Mr. Erhardt Schneider celebrated the proud heritage of innovation of 125 Years and experienced how to create the Next 125 Years together during the facilitated event.
Kässbohrer is one of the longest established trailer companies in Europe; the foundations which were laid by Karl Kässbohrer back in 1893 in Ulm, Germany. The first Kässbohrer motor vehicle had already been produced in 1907 and continued by the production of the first 2x4 axle trailers. Karl Kässbohrer started to build the first tank semitrailers in the early 30's. In 1931, Kässbohrer applied for two patents, which changed the dynamics of vehicle production. One of Karl Kässbohrer's patents was about semi-trailer coupling, which was extremely reliable and low-maintenance that it paved the way to 3-axle semi-trailers. Kässbohrer coupling changed the course of whole transportation industry. The other one is the production of very first Low-bed with 12 ton capacity. In addition, Kässbohrer started to produce semi-trailers for challenges such as transportation of liquid chemicals and heavy abnormal goods. Also first low-bed with 40 ton capacity is manufactured in 1938. In October 1953, the first silo semi-trailer with hydraulic tipping system was introduced to the sector.
Enginuity: Engineering Paired With Ingenuity
Since 2002, Kässbohrer's corporate motto is Enginuity. Derived from engineering and ingenuity, the motto is summarized as the perfect balance between the two.
Kässbohrer products and services are designed, verified under soft simulation tests, prototyped, hard tested in the prototype center as well as on physical roads, improved and are ready for mass production for the different markets. Kässbohrer keeps adding new patents to its inventions and won the IAA Innovation Award in 2017. Thanks to the technology that Kässbohrer provides and its customer centric attitude, Kässbohrer does business in over 55 countries.
Adhering to Enginuity, Kässbohrer is continuously developing products and services for the market, incorporating the emerging mega-trends of global economic environment may it be sustainability, digitalization, IoT, AI or any other scientific development. With its innovative approach for the sector, Kässbohrer has innovated in more ways and has a broader product line than Mr. Kässbohrer would have ever thought possible. This attitude led Kässbohrer to celebrate The Next 125 Years as the theme of the 125th year celebrations at the Ulm Factory in Germany from June 13th to 14th.
One Day Was Not Enough To Celebrate Kässbohrer's 125th Year Anniversary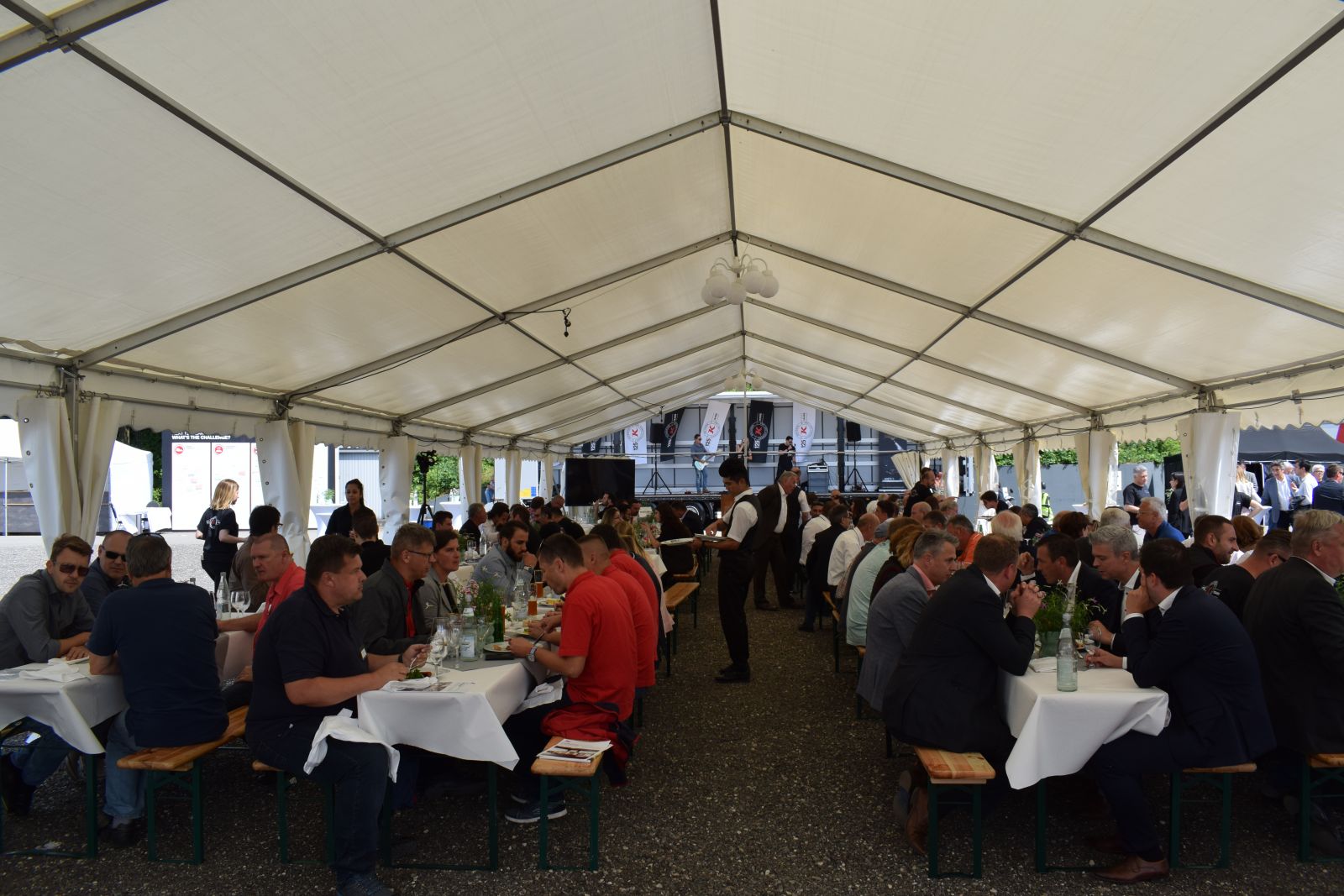 Kässbohrer celebrated its 125th year anniversary with a two-day event held on 13th -14th of June in Ulm plant, where Kässbohrer has been established in 1893. This two-day celebration had a story behind it: to make participants experience Kässbohrer's 125-year-journey full of innovation and Enginuity in order to celebrate The Next 125 Years together. On 13th of June, participants worked on concepts and new ways of doing business in Kässbohrer ecosystem, which includes associations, consortium partners, industry-related start-ups, universities, suppliers, and clients presenting the perfect example of open innovation. On 14th of June, a celebration was conducted in the spirit of Kässbohrer's traditional summer fest and to open Ulm plant gates to all Ulmer's who have worked at Kässbohrer Company through generations, besides inspirational speeches about the future and Kässbohrer's impact in the past.
Focus On The Next 125 Years
The first day of Kässbohrer's 125th year celebration started with the welcome speech of Kässbohrer Board Member İffet Türken. She highlighted the remarkable, 125 years old heritage of Kässbohrer and mentioned its current successful numbers. Kässbohrer Board Member, İffet Türken stated: "Today we are here not only to celebrate 125th year of Kässbohrer but also to discuss the next 125 years of our industry.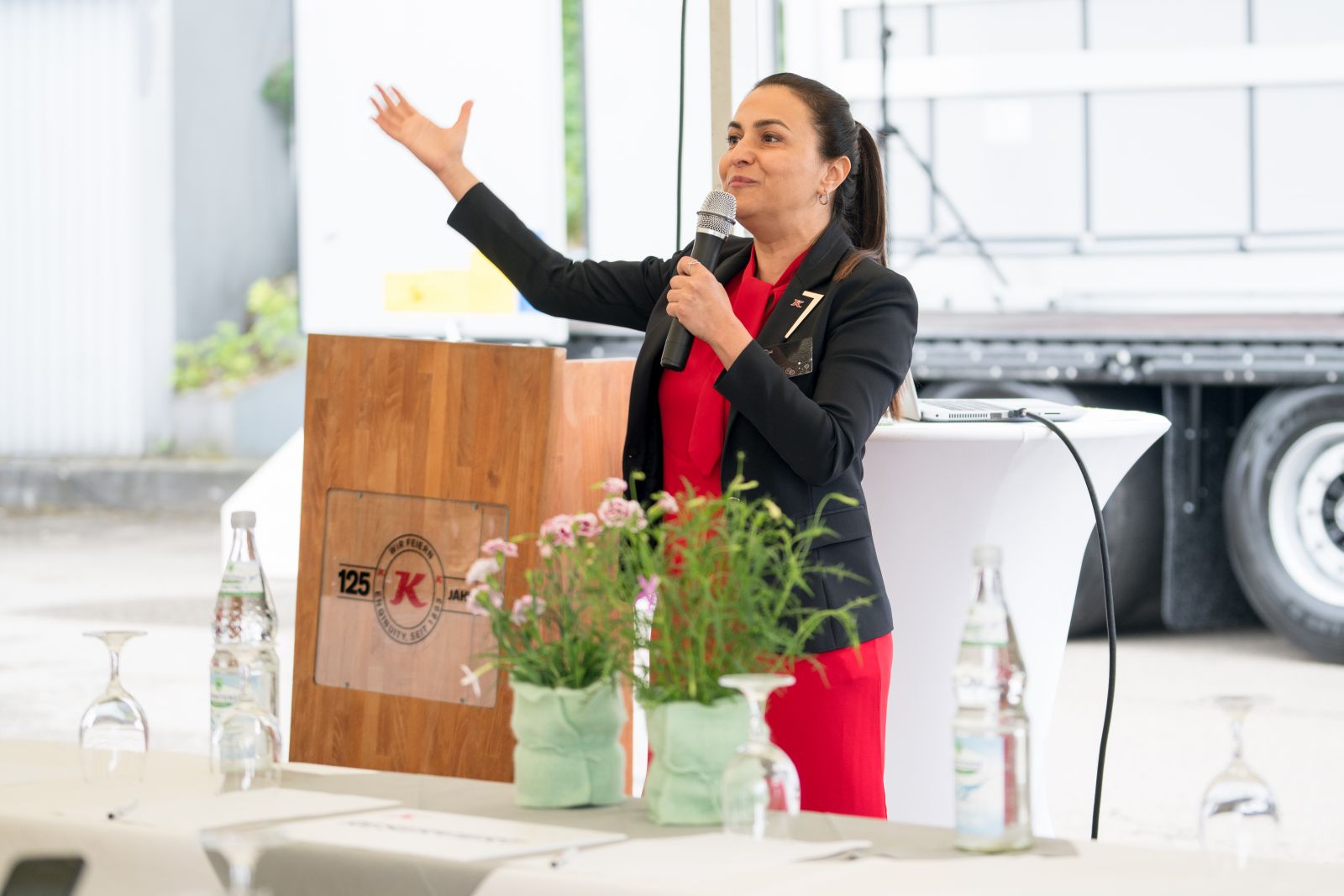 Because we want to focus on The Next 125 Years, today we will work on the concepts and new ways of doing business that is defining the world with the participation of all stakeholders in our ecosystem, which is a perfect example of open innovation. Over the 125 years, Kässbohrer has always been an engineering-centric company, and we will continue to work through "Enginuity" for The Next 125 Years."
The celebration continued with the speech of Mayor of Achstetten, Kai Feneberg. "Undeterred, continue what has proven to be a good tradition; use forcefully what their typical strengths are; implement emphatically in what you see your sustainability; make the most of what is needed to continue on the road to success. That is Kässbohrer for us and we're proud to have Kässbohrer in our region" said the mayor.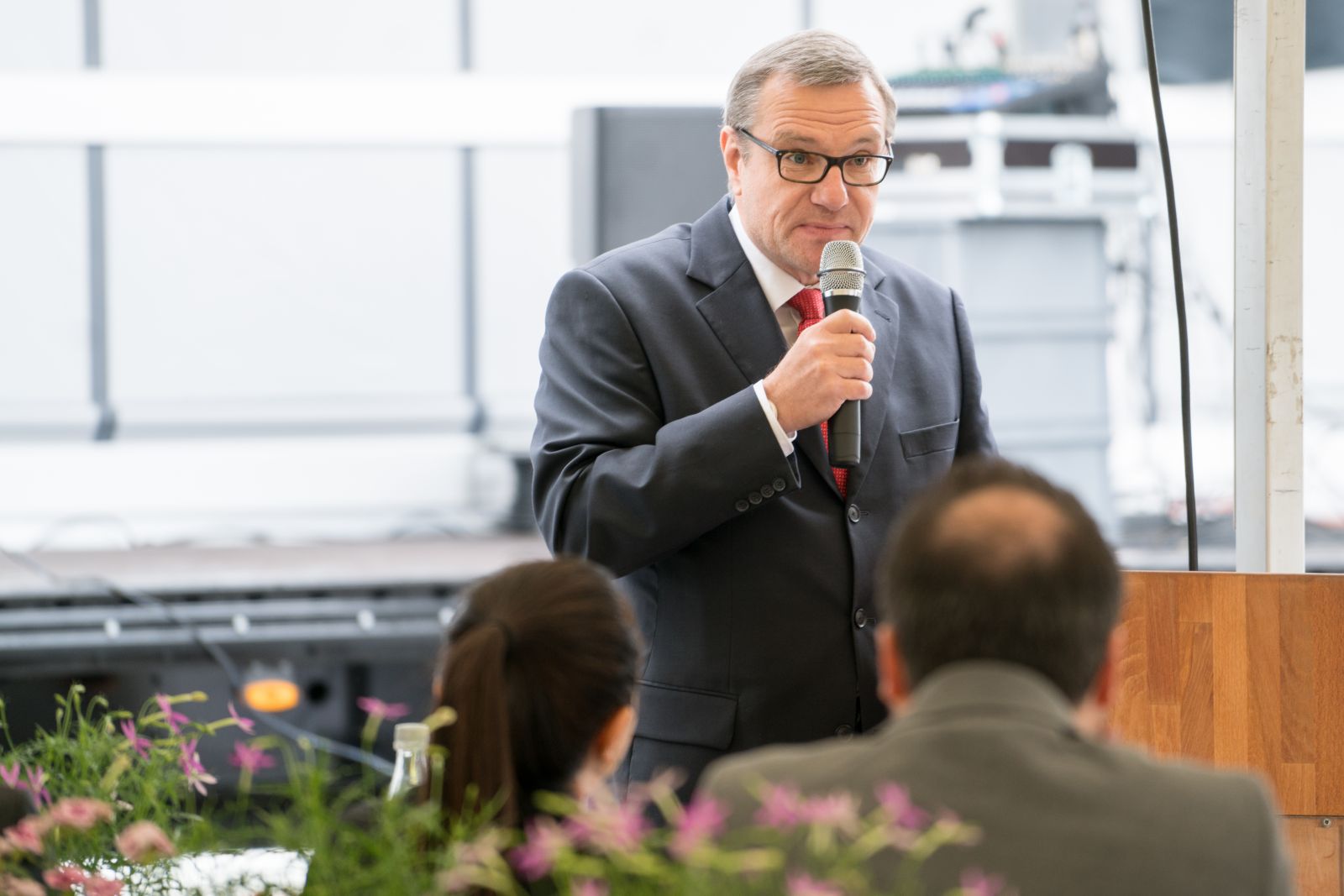 The keynote speaker Darius Moeini of Numa Berlin, presented global future megatrends with examples of its application to industry transformation. Mr. Moeini reframed IoT, big data, connectivity, machine learning within the scope of current digital products. Comparing the innovation culture of corporations and start-ups, he introduced how the two cultures can complement each other for future success in innovation.
The program continued with Aeroflex Project Coordinator Ben Kraaijenhagen's presentation which included the roadmap to sustainable transport, decarbonization and automation within the scope of European Union's sustainability targets. Kässbohrer is proudly a part of the Aeroflex Project, developing energy efficient, safe, comfortable, configurable and cost-effective vehicle concepts and adapt them to ever-changing working conditions.
Mr. Ben Kraaijenhagen stated that the goal of this program, which is supported and funded by the European Union, is to develop and demonstrate new technologies, concepts and architectures for complete vehicles meeting future logistics and co-modality needs and a clear focus on Zero Emissions is a must.
Kässbohrer's valued partner, Verband Spedition und Logistik (VSL) Baden-Württemberg e.V`s General Manager Andrea Marongiu mentioned Kässbohrer`s and VSL`s strong long-term partnership. "In one of the most important manufacturing centers in this region, we're proud to live with the confidence of working with Kässbohrer, one of the most important companies in the logistic industry in all Europe. We are confident that this trust relationship will help both to contribute to the employment in the region and to continue pioneering the development of the industry." said Andrea Marongiu, the General Manager of VSL Baden-Württemberg.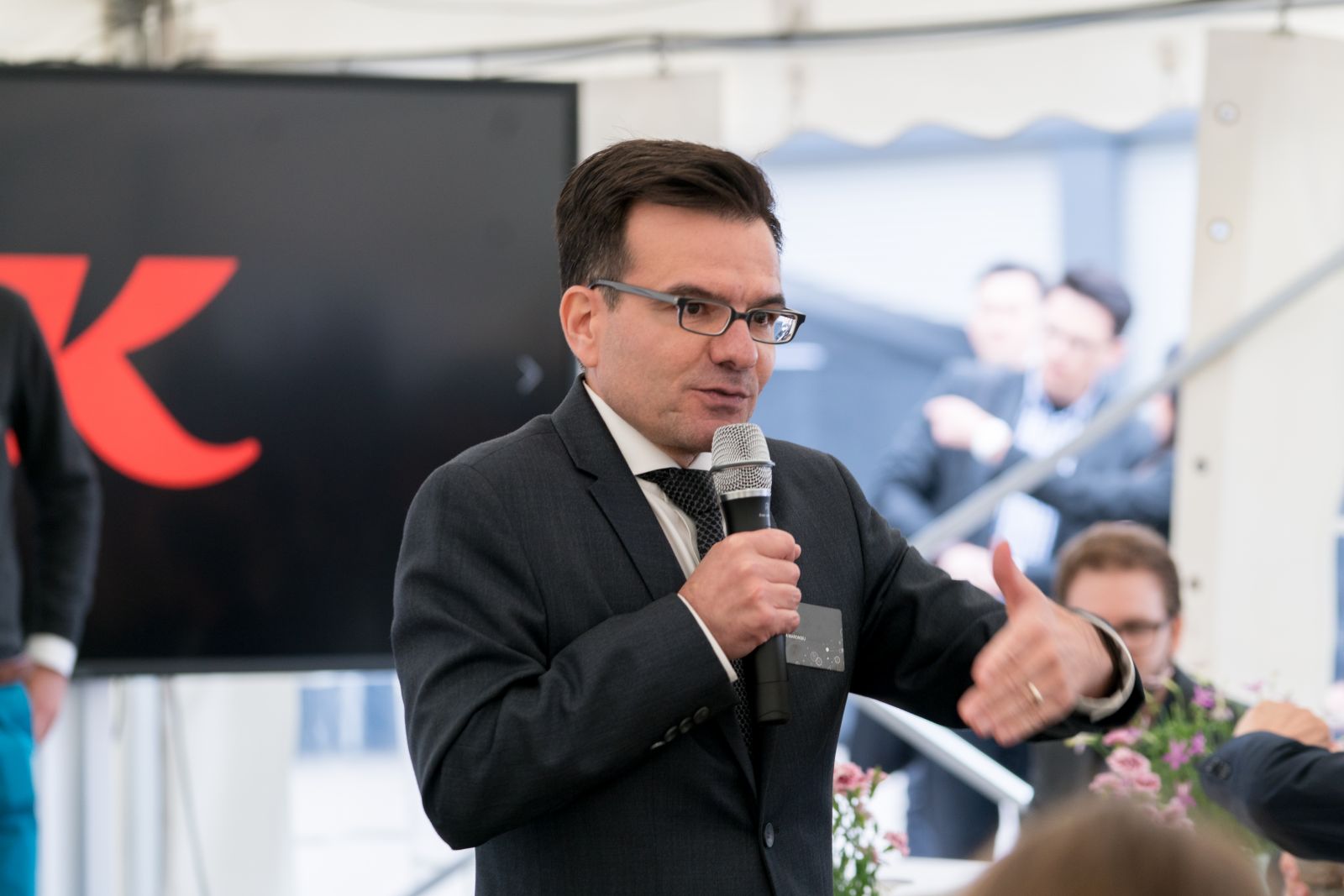 Incorporating Changing Nature of Innovation with Start-ups
The start-up companies including CargoSnap, who are offering secure supply chain services, BeNomad, who developed a business and consumer navigation application, Holland Container, who provide foldable containers and Magment, who are working with concrete material created from cement and recycled magnetic particles that enhances the transfer of energy with high robustness and excellent performance, accompanied Kässbohrer's anniversary celebration event on both days with their innovative projects for the logistics sector. With moderation of Hackquaters, the start-up accelerator and corporate advisory firm, the start-ups not only shared their innovative products but gave insight on their innovation processes
During the two days celebration event, a problem wall enabled an interactive discussion with startups, industry experts, and the guests. Customers, suppliers, academics, members of the press all had a chance to evaluate their needs current challenges within the scope of automated driving, connected vehicles, urban logistics as well as transport services that are increasing accessible through smart devices. The questions that have been recorded on the problem wall will be revived by industry experts and will be made accessible as research notes to all interested parties.
Celebrating The History Of Innovation
In the second day of the 125th Year celebration Kässbohrer customers, dealers, suppliers, associations, press members from all over Europe, employees, as well as citizens from Ulm came together to celebrate Kässbohrer's 125th anniversary. After Kässbohrer Board Member İffet Türken welcomed the guests, a surprising and emotional act was waiting for them. Kässbohrer introduced its tipper from the historical collection which was manufactured in 1938. This breathtaking moment was appreciated by the guests. Especially for the retired Kässbohrer employee Mr. Erhardt Schneider, who also attended the event to celebrate the great heritage of Kässbohrer. He shared his experiences as a "19 year old, excited and curious guy" as he said and gave a short brief about the company's history to that time. He highlighted: "As a 19 years old young and unexperienced guy, I was highly impressed about all the innovations Kässbohrer introduced in the market. Today, after so many years, I still feel excited and my heart beats full of proud when I see the Kässbohrer name on the streets. After visiting Kässbohrer's main production plant 2 years ago, I am convinced that Kässbohrer has all the capacity and vision to continue on this heritage and be the best trailer manufacturer in years to come."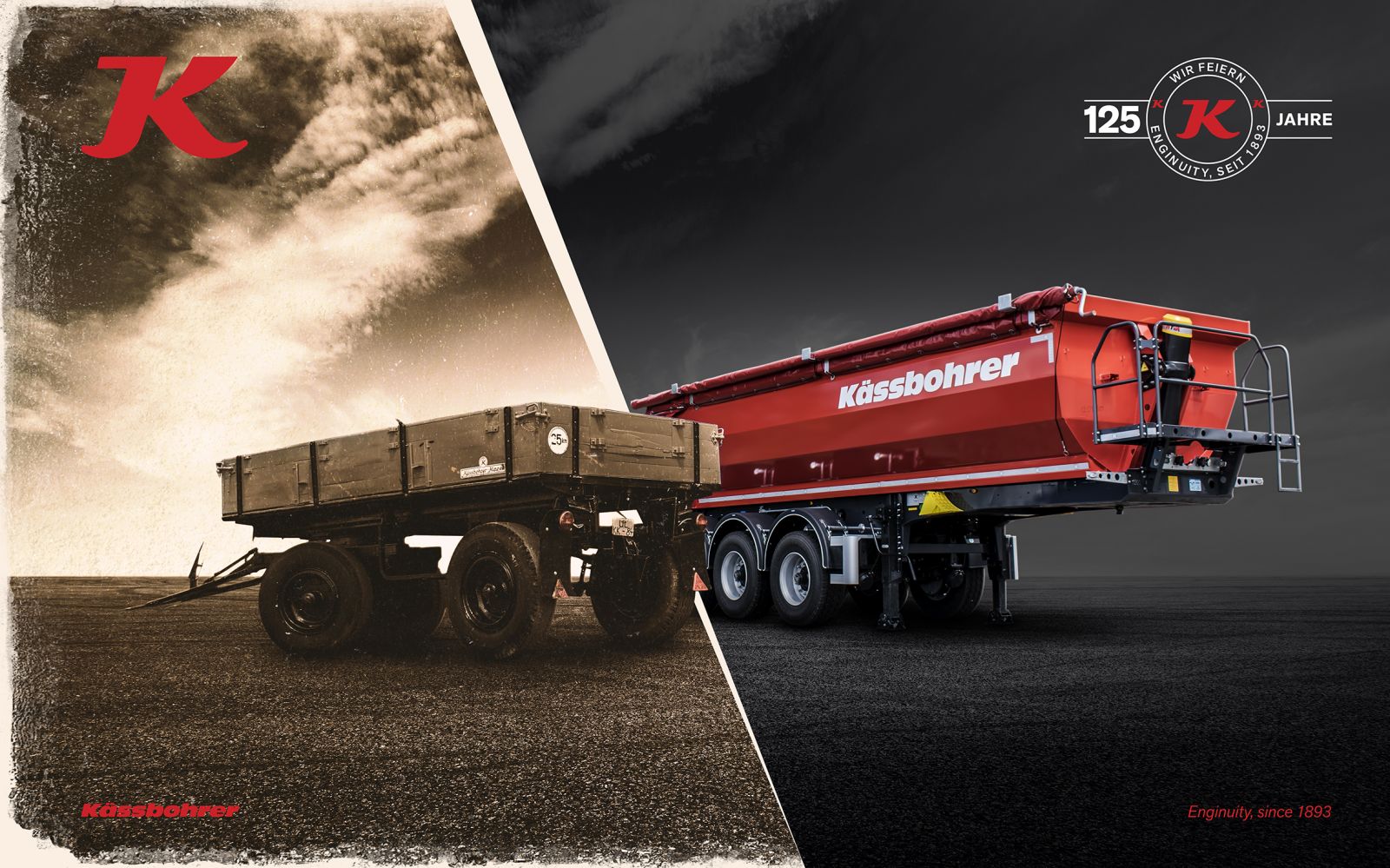 During a tour of the large outdoor area at the location in Ulm, guests also had the opportunity to experience Kässbohrer's products that are enhanced with continuous innovation such as curtainsider, low bed, reefer silo, tank, and container chassis up close.
Innovative Products With Cutting-Edge Technology Reinforce The Industry
Kässbohrer's innovation-oriented efforts were focused on high quality products and services incorporating the latest available technology.
Thanks to the strong R&D infrastructure and new technology production capability, Kässbohrer pioneers the transportation industry in Europe. Offering the widest product range in Europe, the company continues to expand its product portfolio further with awarded innovation technologies. The product range includes segments such as curtainsider, tankers, silos, low-bed, low-loader container chassis, reefer, tipper; which are developed to meet customers' challenges, with goals of maximum operational efficiency, safety and sustainability in all sectors and countries of operation.
Kässbohrer Offers Advantage With Proximity To Logistic Centers
Kässbohrer's strength lies within its production facilities equipped with high technology. The location and qualities of these production facilities came as a result of comprehensive strategic planning. Kässbohrer has four different plants; two in Europe, one in Russia and one in Turkey.
The headquarters of the western European operations is located in Goch, Germany, where Kässbohrer anchors at the heart of intermodal transportation and easily access to neighboring countries outside Germany. The location can be described as "Europe's gateway to the East and to the world". Second production site in Germany is located in Ulm and started its operations as of 2017. With this new plant, Kässbohrer returned back home, where it has been founded in 1893,125 years ago. Being the pioneer of innovations, the company aims to meet customers' needs as fast as possible as a final achievement to round off last year's achievements.
The company also opened a manufacturing plant in Tula, Russia in 2012 and continued production from there. The city of Yasnagork in the Tula region of Russia was carefully chosen. It is located 140 km away from Moscow. The presence of heavy industry and locomotive maintenance factories in the city enabled Kässbohrer to show its quality as fast as possible.
Lastly, the biggest Kässbohrer plant is located in Adapazarı, Turkey.
Kässbohrer experienced the fastest run of its 125 years journey and became a global brand with the power of its Enginuity. Kässbohrer will continue making an impact with its products and services for Europe and the world.